Your personal element gives guidance on whether you are more suited to the energies that occur in an Eastern Life or Western life environment.
Eastern Life directions = N (water), E (wood), SE (small wood) & S (fire).
Western Life directions = NE (small earth), SW (earth), W (metal) & NW (big metal).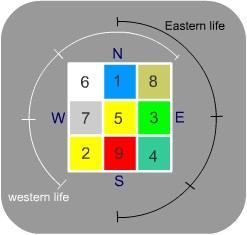 N.B. The personal number is a good enough indication for assessing whether you are Eastern or Western life.